Cereal && Code (Chicago)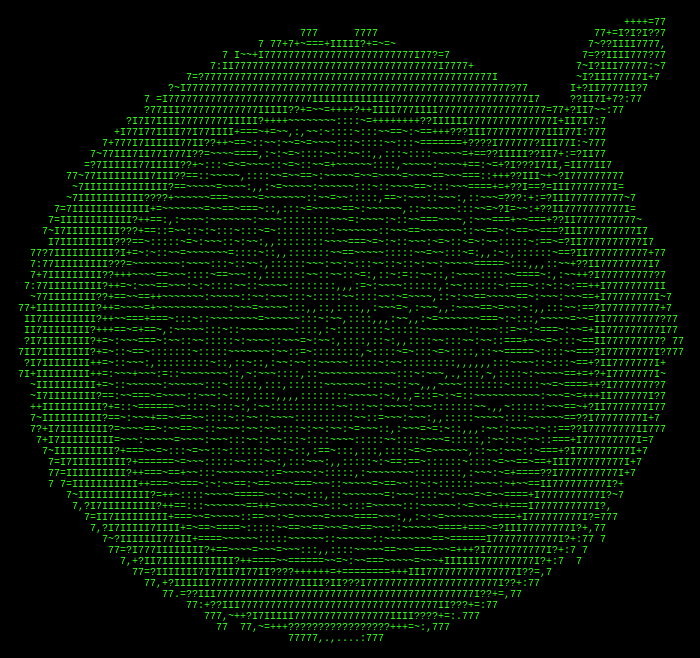 ++++=77
777 7777 77+=I?I?I??7
7 77+7+~===+IIIII?+=~=~ 7~??IIII7777,
7 I~~+I7777777777777777777777777I77?=7 7=??IIII777?77
7:II7777777777777777777777777777777777I7777+ 7~I?III77777:~7
7=?777777777777777777777777777777777777777777777777I ~I?III77777I+7
?~I777777777777777777777777777777777777777777777777777777?77 I+?II7777II?7
7 =I777777777777777777777777IIIIIIIIIIIII77777777777777777777777I7 ??II7I+7?:77
?77III7777777777777IIIII??+=~~=++++?++IIII777IIII777777777777777777=77+?II7~~:77
?I7I7IIII77777777IIIII?++++~~~~~~~~::::~=++++++++??IIIIII77777777777777I+II7I7:7
+I77I77IIII77I77IIII+===~+=~~,:,~~:~::::~:::~~==~:~==+++???III7777777777III77I:777
7+777I7IIIIII77II??++~==~::~~:~~=~=~~~~:::~::::~~:::~=======+????I777777?III77I:~777
7~77III7II77I777I??=~~~~====,:~:~=~::::~~::~~::,,:::~::::~~~~~=+==??IIIII??II7+:=?II77
=?7IIIIII77IIIII??+~:::~=~=~~~~::~=~::~~=+~~~~~~::::,~~~~~:~~~~+==:~=+?I???I7II,=II77II7
77~77IIIIIIIII7III??==::~~~~~,::::~~=~~==~:~~~~~=~~=~~~~=~~~~==~~~===::+++??III~+~?I777777777
~7IIIIIIIIIIIIII?==~~~~~=~~~~:,,:~=~~~~~:~~~~~~:::~::~~~~==~:::~~~====+=+??I==?=III7777777I=
~7IIIIIIIIIII????+~~~~~~===~~~~~=~~~~~~~::~~=~~:::::,==~:~~~::~~~:,::~~~=???:+:=?III777777777~7
7=7IIIIIIIIIIIII+=~~~~~~~=~~==~===~::,:::~=~~~~~==~:~~~~~~,::~~~~~~:::~~=~?I=~~:+??II7777777777I=
7=IIIIIIIIIIII?++==:,:~~~~:~~~~~~~:~~~~::::::::~~~=:~~~~:~::~~===~~~~,:~~~===+~~===+??II7777777777~
7~I7IIIIIIIII???+==::=~~::~:~:::~:::~=~::::::::::~~~~~~~::~~~==~~~~~~~::~~==~:~==~~===?III777777777I7
I7IIIIIIIII???==~:::::~=~:~~~::~:~~:,,::::::::~~~~===~=~:~::~~~:~=~::~=~:~~:::::~:==~=?II7777777777I7
77?7IIIIIIIIII?I+=~:~::~~=~~~~~~~=::::~::,,:::::::~~==~~~~~:::::~~=~~:::~=:,,:~:,::::::~==?II7777777777+77
7:77IIIIIIIII???=~~~~~~~~:~~~~:::~::~~:,::::::~~~:~~:~:::~~::~::~:~~:~~~~~=====~:::,,,::~~+??II77777777I7
7+7IIIIIIIII??+++~~~~==~~~::::~==~~~::,:::::::~~::~~::~=:,::~:=::~~::,:~~~~::::~~====~:,:~~++?I777777777?7
7:77IIIIIIIII?++=~:~~~==~~~:~:~::::~~::~~~~~::::::::,,,:=~:~~~~::::::,:~~::::::~:===~::~::~:==++I77777777II
~77IIIIIIII??+==~~==++~~~~~~~:~~~~~::~~:~~~:::~:::::~~::::~~:~=~~~~,::~:~~==~~~~~==~:~~~:~~~==+I77777777I~7
77+IIIIIIIIII?++=~~~~=+~~~~~~~~~~~~:~~~=~~~~~:::,,::,::::,,:~~~=~,:~~~,,:~~~~==~=~~:~:,,:::~~:==?I777777777+7
II7IIIIIIIII?++~~===+===~:::~::~~~~~~~~=~~~~~~:::~:~~,::::,,,:~~,,:~=~~~~~~~===~:~:::,~~~~~=~~=II777777777?77
II7IIIIIIII?+++==~=+==~,:~~~~~:::~::~~~~~~~~~::::,:~::::::::~:::::~~~~~~~~::~~~::=~~:~===~:~~=+II777777777I77
?I7IIIIIIII?+=~:~~~===~:~~::~~:::::~:~~~~::~~~=~:~~:,::::,::~:,,::::~~:::~~:~~::===+~~~=~:::~==II777777777? 77
7II7IIIIIIII?+=~::~==~:::::::~:::::~~~~~~~:~~::=~::::::::,~::::~=~:::~=~::::,::~~=====~::::~~===?I77777777I?777
?I7IIIIIIII++=~::~~~:,:::::::::~::,::~::,:~~:~~::~~~~~:::::~:~~:::::::::,,,,,,:::~~~~::~:::~==+?II7777777I+
7I+IIIIIIIII++=:~~~+~~~:=::~~~~~~~~::,~:~~~::::,::~~~~~~~~~~~~~:::~:~~~,.,:::,~,::::~:~~~~~==+=+?+I7777777I~
~IIIIIIIIII+=~::~~~~~~:~~~~~~:::~:::::,:::,::::::~~~~~~~:::~~::~~,,,~~~~:::::::~:::::~~=~====++?I7777777?7
~I7IIIIIIII?==:~~===~=~~~~::~~~:~:::,::::,,,,::::::::~~~~~:~:,:,=::=~:~=::~~~~~~~~~~~:~~~=~=+++II777777I?7
++IIIIIIIIII?+=::~======~~::::~:::~:,:~~:::::::::::~~:::~~:~~~~:~~~:::::::~~.,,~::::::~~~==~+?II7777777I77
7~IIIIIIIIII?==~:~~~+==~~==~~::::~::~~::~~~~::::::::::~~::=~~~:~~~:,,:::::~~~~~::::~~~~~~==??I77777777I+7
7?+I7IIIIIIII?=~~~~==~:~~==~~::~~~~:~~:~~::::~:~~:~~:~=~~~::,:~~~=~=:~::,,,:~~::~~~~:~::==??I77777777II777
7+I7IIIIIIIII=~~~:~~~~~=~~~~:~~~:::~~::~~:::~::::~~~~:::::~~::::~~~~=:::::,:~~::~:~~::===+I777777777I=7
7~IIIIIIIIII?+===~~=~:::~=~~::~::::::~:::~::,:==~:::,:::,::::~=~=~~~~~~,::~~:~~~::~===+?I777777777I+7
7=I7IIIIIIIII?+======~=~~~:::::~~:::~~:,:::~~~:,,:::::~:~==:==~::::::~::::~=~~==~==+III777777777I+7
77=IIIIIIIIII?++===~==+~~:::~~~~~~~~::=~~~~~:~:::::,:~~~~~~~~::::::::,:~~~:~=+====??I7777777777I+7
7 7=IIIIIIIIIII++===~~===~:~:~~==:~==~~~~===~~~::~~~~~=~==~~::~:~::::::~~~~:~+~~==II777777777I?+
7~IIIIIIIIIIII?=++~::::~~~~~=====~~:~:~~:::,::~~~~~~~=:~~~::::~~:~~~=~=~~====+I7777777777I?~7
7,?I7IIIIIIIII?++==:::~~~~~~~==++=~~~~~~=~~::~:::=~~~~~:::~~~~~~:~=~~~=++===I7777777777I?,
7=II7IIIIIIIII+===~~=~~~~~::==~~:~=~~~~~=~~~~====~~~:,,:~:~=~~~~~~~~====+I777777777I?=777
7,?I7IIIII7IIII+=~==~====~:::::~~==~~==~~~=~~==~~~::~~~~~~====+===~=?III77777777I?+,77
7~?IIIIIII77III+====~~~~~~:::::~~~~~~::~~~~~~::~~~~~~~~==~======I77777777777I?+:77 7
77=?I777IIIIIIII?+==~~~~=~~~=~~~:::,,::::~~~~~==~~~===~~~=+++?I7777777777I?+:7 7
7,+?II7IIIIIIIIIIII?++====~~======~~=~:~~===~~~~~=~~~+IIIIII777777777I?+:7 7
77=?IIIIIII7I7III7I77II????++++++=+========+++III777777777777777I??=,7
77,+?IIIIII777777777777777IIII?II???I7777777777777777777777I??+:77
77.=??III7777777777777777777777777777777777777777777I??+=,77
77:+??III777777777777777777777777777777777II???+=:77
777,~++?I7IIIII7777777777777777IIII????+=:.777
77 77,~=+++?????????????????+++=~:,777
77777,.,....:777




Event Details
Date:
Saturday, Nov 3
Starts:
10am (or whenever you wake up)
Ends:
10pm (or whenever you want to go drinking)
Cost:
$5
Where:
Venture Shot (
map
)
744 N Wells
Chicago 60654
What is Cereal && Code?
Cereal && Code is a saturday morning for hackers to hack, with the bestest cereal buffet of your dreams, and some throwback cartoons like Tom & Jerry, Pinky and the Brain, and Wile E Coyote playing on a projector.
It's the grown up version of hackers watching saturday morning cartoons.
What Will I Do?
Hacking, in this context, is actually building stuff. That can be developers, designer, UX folk. It's not "Hey I have a great idea and maybe a nerd will build it for me."
There seem to be a lot of events for startup people to meet, but sometimes hackers just need to get shit done. It's more fun to do it with a bowl of Frosted Flakes, throwback cartoons, and a room full of people who might already know how to solve that Node.js problem that is crushing you right now.
How Do I Know If Should I Come?
If you build stuff, have something to work on, like humans, and like cereal or cartoons, you should come.
Notice that we said, "if you build stuff." Yeah, that's right. We said it. If you're a "just pontificating about stuff" bizdev, this isn't for you. Real hustlers welcome.
Cereal && Code is an event where hackers get together to work on whatever they want to work on -- personal projects, your part-time startup, your full-time startup, toying with a new framework, etc. Whatever it is, the ONLY stipulation is that you BUILD things.
Cereal && Code is, hopefully, an event where people come, sit down, and get a lot of work done. Hopefully you'll meet other cool hackers who might be able to help you as you hack. We want you to meet cool people, but it is an event for you to work, not to recruit.
How Much, Ya Greedy Bastards?
We're not trying to make any money on this, but we're taking a 5 bucks to cover the cost of cereal, milk, and plasticware. Lactose intolerant? TOO BAD! Bring your own almond milk!
We'll kick back the meager remaining funds to Venture SHOT, who has graciously donated/volunteered their space.
The Venture Shot Space is limited, so there are only 50 seats.
Sign up with
All Your
Base

Email Are Belong To Us

Join the mailing list to stay in the loop for our next event. We promise we will spam you.
Yeah. I like cartoons. So what?! crunchy@cereal-and-code.com